---
Making Ships in Bottles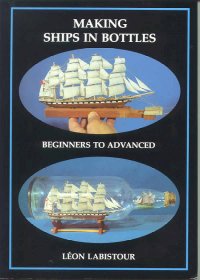 Léon and Pat Labistour set out this book in a thoroughly practical way, combining sensible drawings with photographs at each stage of construction. The A4 format means that the drawings are often at full size and can be copied as templates.

I particularly liked the encouraging way in which he demonstrates the building of his beginners model, before moving on to more advanced projects which include ships in both horizontal and upright bottles and range from an attractive small collier brig to a full four masted ship.

A small number of tools is needed to make a start and the book includes drawings of those specialised tools which are required for working through the neck of the bottle, and are readily home made. (In the more advance section there are photographs of home made power tools which are clearly effective).
( Altogether the the most practical book on the subject that I have seen, Ed)

Available from: Only available from Charles Smith Books (TradBoat)
Size: A4 Paperback. 88 pages
Illustrations 30 plus black & white photos. Many drawings
Price: £7.95 plus p&p
Ordering: To order a copy please click here

---
19 June, 2009 TradBoat. Charles Smith Publications, 16 Manor Gardens, Farncombe, Surrey GU7 3LL
---