TradBoat

Maritime Museums and Preserved Ships

Add your Museum free by e-mailing us at tradboat@btinternet.com
---
In this section we list major maritime museums in the UK, with their locations and opening hours. Scroll down or click on a museum to see the details. Model makers will find the list of historic ships particularly useful.
---

Symons Wharf
Tooley Street
London SE1 2JH
Tel: 0207 940 6300
Web: http://www.iwm.org.uk/visits/hms-belfast

The Cruiser HMS Belfast was launched in 1938 and came to London river in 1971 after a distinguished wartime career. Charts in the bridge area show the layout for the D-Day invasion, in which she played an important part.


---

Boat Museum, Ellesmere Port
Ellesmere Port
Cheshire
Tel: 0151 355 5017
Web: http://www.boatmuseum.org.uk/

Opening hours: Summer 10.00 - 5.00 Winter 11.00 - 4.00


---

Chatham Historic Dockyard
Chatham
Kent ME4 4TE
Tel: 01634 823800
Web: http://thedockyard.co.uk/

Museum ships HMS Gannet and submarine Ocelot. Paddle steamer Kingswear Castle on site. Remarkable working ropewalk etc.
Opening hours: 30th March - end October, 7 days 10.00 - 5.00. Winter - February and March, Wed, Sat & Sun 10.00 - 4.00. Last admission 1 hour before closing.


---

Classic Boat Museum
Columbine Road, East Cowes. IOW PO32 5EZ
Tel: 01983 5244101 Email: Info@classicboatmuseum.org Web: http://www.classicboatmuseum.org/
A nice collection of sailboats which includes Lord Brabazon's remarkable "windmill" Bembridge Redwing (yes the actual boat ! Ed.) and a splendid group of sports boats amongst them Lady Docker's Chris Craft Silver Arrow and some serious machinery including a rare Healey. The Museum has an Airborne Lifeboat. Our photograph shows her at the Thames Traditional Boat Rally at Henley in 2003. From Uffa Fox's board these craft were designed to be dropped from aircraft to downed pilots in WWII, and will be the subject of a new TradBoat Source Page
The museum was moving into this location during 2016 and may not yet have moved all its exhibits. Check before traveling. Note - the Museum is a short walk from the Ferry terminal
---
Cornwall - National Maritime Museum, Cornwall.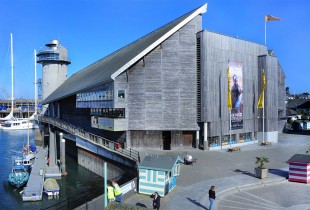 Discovery Quay
Falmouth, Cornwall TR11 3QY
Tel: 01326 313388
Email: enquiries@nmmc.co.uk
Web: www.nmmc.co.uk
Opening Hours: Daily 10am to 5pm


---
Cutty Sark Clipper Ship Museum
King William Walk
Greenwich
London SE10 9HT
Tel: 0208 583 3445
Web: www.cuttysark.co.uk

Opening hours: October - end March, 10.00 - 5.00 Sun 12.00 - 5.00 1st April - end September, 10.00 - 6.00 Sun 12.00 - 6.00. Last admission 30 minutes before closing

---

RRS Discovery
Discovery Visitors Centre
Discovery Point
Discovery Quay
Dundee DD1 4XA.
Tel: 01382 309060 Web site: www.rrsdiscovery.com

Royal Research Ship (RRS) Discovery built in 1900-1901, restoration going on but open to visitors. Visitors Centre alongside tells the story of Scott's Expedition.
Opening hours: (Christmas Day and 1st/2nd Jan excepted)
April to end October, Mon - Sat 10.00 - last admission 5.00, Sun 11.00 - 5.00
November - March, Mon - Sat 10.00 - last admission 4.00, Sun 11.00 - 4.00
(This ship was moored alongside Blackfriars' Bridge in London for many years before finding a permanent home back in Dundee. Ed.)
---
Dolphin Sailing Barge Museum Destroyed by fire.

---
Ellesmere Boat Museum See The Boat Museum, Ellesmere Port
---
Glasgow Riverside Museum
Web: http://www.clydewaterfront.com/
The new riverside museum on the Clyde Waterfront is home to 'Glenlee' a three barque built in 1896 at Port Glasgow. She is in the care of the Clyde Maritime Trust and her restoration is well advanced. A nice example of a three masted barque - square yards on to of the three mats and fore and aft rig on the third. 245 feet overall
The Clyde Maritime Trust. Web: http://thetallship.com/
The paddle steamer Waverely is also based hetre when she is not cruisng.
---
S S Great Britain Project
Great Western Dock
Gas Ferry Road
Wapping Wharf
Bristol BS1 6TY
Tel: 0117 9260680

http://www.ssgreatbritain.org/

Brunel's famous screw driven ship was launched in 1843 for the Atlantic route as a passenger liner and later converted to merchant use in 1852. She ceased service in 1933 and remained as a hulk in thr Falklands until being rescued and returned to Bristol for restoration in the early 70s. She is now restored, ashore and fully accessible in Bristol..

Opening hours: Summer 10.00 - 5.00 Winter 10.00 - 4.30 daily

---
trincomalee

Hartelpool Historic Dockyard

The Hartlepool Historic Quay is home to HMS Trincomalee which has been fully restored and is open to visitors. Built in 1817 in Wadia Shipyard, India as Trincomalee she was renamed Foudroyant circa 1902, and spent a period as a training ship She returned to her original name in 1993. She is currently the oldest ship of her type afloat. More details at: www.hms-trincomalee.co.uk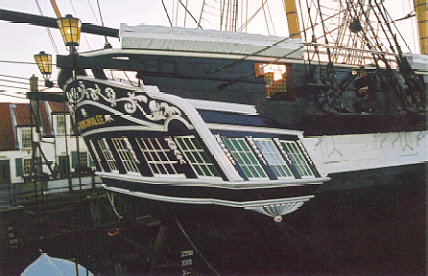 Trincomalee lies in a dock surrounded on three sides by a series of original shops each dedicated to an aspect of seagoing life - a chandlers, a sword makers and so on. These are amongst the best that we have seen. In addition there is an extensive onshore museum which amongst other things has a fine display of Cobles, two of which are also displayed on the Quayside.

The Paddle Steamer Wingfield Castle, built here, is alongside. (Her sister ship is moored on the river in central London Ed.) The staff are very helpful, and run a series of guided tours.
Venue: Maritime Avenue, Hartlepool TS 24 0XN
Tel: 01429 223193 Web: www.thisishartlepool.co.uk
---
The London Canal Museum
12/13 New Wharf Road
London N1 9RT
Web: http://www.canalmuseum.org.uk/
Tel: 020 7713 0836
Opening hours: 10.00 - 4.30 (last admission 3.30) daily. The museum is situated not far from Battlebridge Basin and occupies a Victorian ice house.


---

Looe Maritime Archive
Hundreds of old family photos, some dating back to the 19th Century, of fishing folk and their working or pleasure boats, a growing archive. Material on J Class Yachts.
More at : www.buttervilla.com/lma/

---
Lowestoft Maritime Museum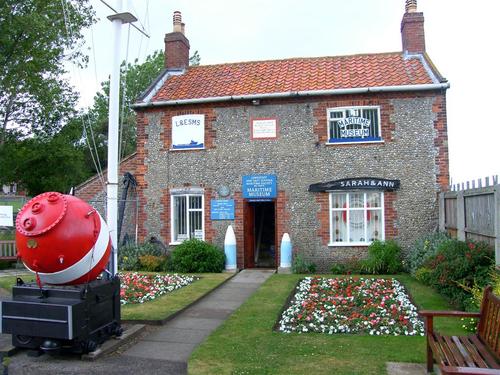 Whapload Road, Lowestoft NR32 1UL
Web: http://lowestoftmaritimemuseum.co.uk/plan-your-visit/
An excellent museum particularly strong in models from the age of the herring fleets, including a splendid display of model steam drifters
---
Mary Rose Trust
College Road
HM Naval Base
Portsmouth
Hants PO1 3LX
Tel: 01705 750521
The Trust is responsible for the ship, research and preservation - for admission to the site and other ships in the Portsmouth Dockyard see Portsmouth Historic Ships
---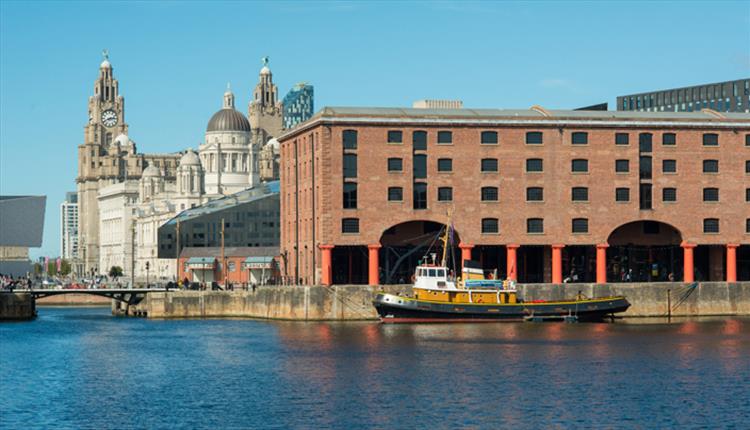 Albert Dock
Liverpool L3 4AQ
Albert Dock Visitor Information Centre Tel: 0151 907 1057
Web: http://www.albertdock.com/visitor-information/shops/albert-dock-visitor-information-centre/

Collection includes items on the slave trade, and emigration, the Lusitania gallery a ship model collection including the Ocenaic and the Lusitania, and a fascinating collectio of convy drawings.
Web: http://www.liverpoolmuseums.org.uk/maritime/

---
The Motor Boat Museum Basildon
This museum is now closed and the exhibits dispersed.


---
National Maritime Museum
Park Row
Greenwich
London SE10 9NF
Tel: 020 8858 4422
Venue: Greenwich.
Opening hours: 10.00 - 5.00 seven days, last entry 4.30.
The museum has had an extensive "make over" and the exhibits are largely themed in galleries, for Trade and another for Warships for example. I particularly like the Art section which has several examples of the work of Van der Veld the Elder and a splendid painting of the return of the Dutch East Indies fleet to Amsterdam. If you enjoy sorting the flags of the States of the Netherlands, this is for you. In contrast Miss Britain III is here occupying a corner of her own. The museum has a library on site and a vast collection of ship plans and models, drawings and photographs mostly held off site but accessible for research. (There are some very nice ship models in the Warship gallery for those interested in period ships and craftsmanship in boxwood, Ed.) Be aware that photography is not allowed in the museum.
Copies of prints, paintings drawings and plans may be accessed as follows:
Ships Plans Dept: Tel: 020 8855 1647
Email: plansandphotos@nmm.ac.uk
Prints & drawings collection web site: http://www.nmm.ac.uk
Picture library: Tel: 020 8312 6645
Pictures, email picture librarian at : picturelibrary@nmm.ac.uk
Thumbnails of the collection may be seen at: http://www.nmm.ac.uk
Print Sales: Tel: 020 8312 6600

---
National Maritime Museum of Cornwall
See under Cornwall above
---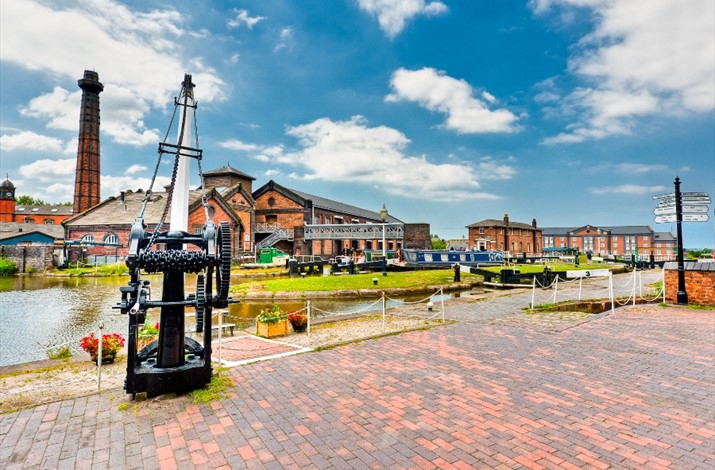 Llanthony Warehouse.
Gloucester Docks,
Gloucester
GL1 2EH
Tel: 01452 318 0504
---
Portsmouth Historic Ships
In Portsmouth follow the brown signs for Historic Ships
HMS Victory, Warrior, Mary Rose, and Monitor M33. Historic dockyard and Museums. Information line: Tel: 01705 861512 Other details from address below:
Flagship Portsmouth
The Porters Lodge, Queen St, Portsmouth
Hants PO1 3LJ Tel: 01705 861533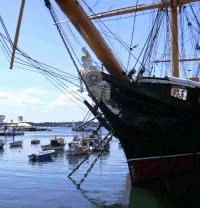 warrior

HMS Warrior
Warrior is afloat immediately adjacent to the entrance to Portsmouth Historic Dockyard . She was the last of the great "broadside" ships and for her day had enormous fire power. In Warrior a full sail plan is combined with a beautifully preserved steam plant, turning an ingenious lifting propeller. The plant is turned over for visitors and remarkable for the size of its cylinders.

Breech Loading guns
On deck she is particularly interesting for her (then new) breech loading guns mounted on racer arcs fore and aft. Her main armament below deck is mounted in her internal "citadel", mainly conventional muzzle loading guns but also a number of new breech loaders. Her type was soon to be replaced by warships carrying turreted armament.

(William Mowl's splendid model is on display in the ticketing area, and his book is available for purchase.)


---
victory

HMS Victory was of course Nelson's flagship at Trafalgar. She stands in dry dock in the Portsmouth Historic Dockyard. She is beautifully preserved and has recently undergone additional work on her rigging. Visitors to the Victory need to book on to a guided tour when they come into the entrance to the dockyard, and will then be able to go over the ship in detail. (We would recommend going through the adjacent Nelson gallery before going on the tour, to set the ship in context)
---
he Mary Rose

The Mary Rose was Henry VIII's great flagship - until the day in 1545 when she sank in full view of the shore and the attacking French fleet. Alexander McKee located her on the seabed in 1979 and the whole story of her discovery in the Solent is a remarkable adventure. Preservation of the timber structure is now completed and ship may be viewed, together with all the equipment found in her hull and on the sea bed, in the new Mary Rose Museum which is part of the Portsmouth Historic Boatyard.
---
The Monitor Minerva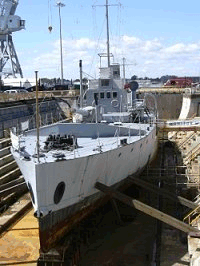 You will find her in dry dock at the Portsmouth Historic Dockyard, adjacent to the Victory. Used in the Dardanelles campaign and elsewhere. She is now completely restored and an excellent subject for model makers.


(I bought the book by Ian Buxton published by HCC, from the adjacent shop and then went back and had another look at her. Buxton's book is excellent value, mine cost £2.50 in 2003, and has very useable original photographs. Also, a card model of the ship is available through David Hathaway's site "Paper Shipwright", together with a number of other monitors and turret ships. Go to www.papershipwright.freeserve.co.uk Editor.)

Tel: 01705 529217.

Email: msubs@submarine-museum.demon.co.uk

Opening times:
April-October 10 am - 5.30 pm. Last tour 4.30 pm
November - March 10 am - 4.30 pm. Last tour 3.30 pm
First submarine Holland under conservation; tour of HMS Alliance (Shown here, Ed.). X24. Museum, educational visits etc.

---
Rhein-Museum Koblenz
This museum is on the East bank of the Rhine at Koblenz and is approached from Koblenz by way of the spectacular Pfaffendorfer Bridge.

It is one of the best set out museums which we have visited either in the UK or Germany. The staff are endlessly helpful. If you don't read German the desk will provide you with "crib" sheets in English. It is permitted to take non-commercial photographs but courteous to ask first. The history of Rhine traffic is set out in separate rooms and the models used are of superb quality. They include the astonishing rope laying steam tug shown here, models of the vast Rhine timber rafts - and a wide variety of Rhine craft from early times to date.

Everyone interested in the Rhine should visit our Rhineships Source Page



Address:

Rhein-Museum Koblenz, Charlottenstraße 53 a
56077.

Koblenz Web: www.rhein-museum.de


---

River and Rowing Museum
Mill Meadows
Henley on Thames
Oxon RG9 1BF
Tel: 01491 415600
E-mail: museum@rrm.co.uk
Web site: http://www.rrm.co.uk


---



The Scottish Maritime Museum
Laird Forge
Gottries Road
Irvine KA12 8QE
Tel: 01294 278283
Opening hours: 10 - 5.00 Easter to the end of September. Other times by arrangement.

The museum collection includes an Uffa Fox Airbourne Lifeboat, Spartan, a Puffer built 1940 - 42, and Carola, a steam yacht built in 1898


---

Stoke Bruerne
The Canal Museum, Stoke Bruerne



British Waterways
Stoke Bruerne
Towcester
Northants NN12 6SE
Tel: 01604 862229

Web: http://www.canaljunction.com/museum/stoke_bruerne.htm


Opening hours: Summer (Easter to October) Daily 10.00 - 5.00 Winter, Tues - Sun inclusive 10 .00- 4.00. Final entry 30 minutes before closing. Small but charming museum. Has a boat weighing machine in a dock outside.




---




Waterways Museum & Adventure Centre, Goole




Sobriety Centre Ltd
Dutch River Side
Goole DN14 5TB
Tel: 01405 768730

Web: http://www.waterwaysmuseum.org.uk/collection

Opening hours: 9.00 - 4.30 weekdays throughout the year, and also at weekends between Easter and October, 12.00 - 5.00


---

Windermere Steamboat Museum
Rayrigg Road
Windermere,
Cumbria LA23 1BN
Tel: 015394 45565

Opening hours: 10.00 -5.00, 7 days a week from 23rd March 1998 to 1st November 1998. Hosts a steam day and a model exhibition every year. Houses beautiful examples of Windermere steam launches.

See also our Steam Pages
---
TradBoat © Charles Smith Publications 12 Jan 2017 Last edited: 12 January 2017
---