Trad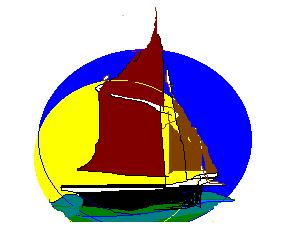 Boat
Class Associations for Dinghies,
Keelboats & Classic One-Designs..
This page normally has a frame to the left. If you see it without, please click here
---
The following boats are included here :
In this section we have also included a number of boats about which there is very little current information, although older classes are now regularly coming up for restoration - for example the Coronation OD listed below. We will be delighted to hear from past or present owners and Class Associations, or about older boats in need of restoration. E mail at tradboat2017@gmail.com

There is no charge of course. Please note, for older dinghies and keelboats the measurements are almost invariably in feet and inches. The metric conversions shown here are approximate.
---
Popular Sailing Dinghies contains colour photographs of over 100 sailing dinghies, modern and traditional, together with a sensible description of each and all the details of length, beam and weight. This book published in 2001 also contains a number of boats no longer in production and is therefore a useful guide to second hand boats. Price: £6.95 To read a more detailed review or order a copy please click here

Popular Sailing Dinghies is compiled by the Editorial team at TradBoat and is normally supplied on the next working day and by first class post.

---

The Dinghy Cruising Association (DCA)

The DCA is a long established organisation beginning in the fifties and continuing today with a series of rallies, an excellent web site, plans for cruising dinghies and an helpful forum. It is devoted to skippers who use their dinghies for extended cruising, often camping on board; cruises might be only a day or two on sheltered waters or occasionally epic voyages such as Frank Dye's voyage to Iceland in a Wayfarer.
a
---
Classic & Vintage Racing Dinghy Association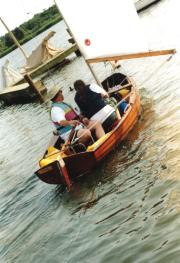 More details on their web site at: www.cvrda.org

We recommend this Association strongly to anyone interested in older dinghies. CVRDA runs a series of meetings throughout the year for owners of classic and and vintage dinghies to which everyone interested is welcome. The boats are raced, usually in a mixed fleet using the "old" Portsmouth numbers and many appear with their original cotton sails. Members will tell you that the racing is not very serious, (but we know better don't we? Ed) They have a first class for-sale section on their web site usually showing National 12s, classic Finns and Merlins amongst others - a good place to get started.

Whilst interested in all older dinghies the Association has four main wings:

Vintage - for boats designed and built using traditional methods
Classic - for boats built before 1965
Old Boat - for boats designed before 1965 and over 25 years old
Catamarans and Lost Classes

Members are endlessly helpful offering advice, spare parts and just plain good fellowship You will find their calendar of events on their web site
The Wooden Boatbuilders' Trade Association
Whilst the WBTA has its own web site and lists its members usefully by region, skippers thinking of buying a wooden boat, a dinghy or small cruiser perhaps, might start with their brilliant Facebook page where there is much for the public to enjoy including interviews with the builders themselves and notices of events where their boats will be on display.

Go here: https://en-gb.facebook.com/woodenboatbuilderstradeassociation/
---
Axe One Design
Web: www.axeonedesign.com
About the boats:
LOA 12'3 Beam 4'7½' Sail area 94 sq ft
Clinker boats with Bermuda rigs


The first boats were built by Jack Drew in the 50s and all about 20 boats were produced, sailed by members of the Axe Sailing Club. Only one survived afloat to the present day, but two have been restored and a further three newly built have joined the fleet. The Class Captain would be delighted to hear of other boats.

---

In 1935 or 1936 six of these craft were built (in Scotland) for the Lymington Yacht Club. They are typical of one design keelboats of the period and may resemble the Loch Long ODs. The boats are carvel built and were originally Bermudan rigged. One of the craft has recently come into restoration, and another is known from a piece in Classic Boat of August 1998. It is thought that they all had names beginning with C and the job is now to trace the remaining four. (We would be delighted to hear from any owner past or present Ed. Contact us at tradboat2017@gmail.com )

About the boats::
LOA 21'9 (6.69m) LWL 15'0 (4.62m) Beam 5'10. (1.79m)
Sail area 170 sq ft. Construction: carvel.

Contact:
William Barker-Wyatt, 31 Dean Lane, Sixpenny Handley, Nr Salisbury SP5 5PA


---


Chichester Harbour Restricted Classes
Two classes:
A 12'0 clinker dinghy carrying 110 sq ft on a Bermudan rig
An 18 ft Restricted Class carrying 160 sq ft. Sail Mark CH.
Clinker or carvel construction




---
Based on the Irish Dinghy Racing Association (IDRA) 14 Footer, with lines modified according to experience gained on that boat, some 40 Dragonflies were built on the River Deben, for the Waldringfield Sailing Club.

Built between 1940's and 50's, 9 of the original Dragonflies are still actively raced at Waldringfield Sailing Club today, with several boats currently under restoration. The Class hopes to continue expanding it's fleet, after resurgence in the boat's popularity over the last few years.



About the boat
LOA 14ft. 0in. (4.30m) LWL 13ft. 0in. (4.0m) Draught 8in. (0.2m)
Sail Area: 125 sq.ft.
Designer: O'Brien Kennedy, A.M.I.N.A
Contact: www.waldringfieldsc.com Sussex
---
estuaryonedesign
Estuary One Design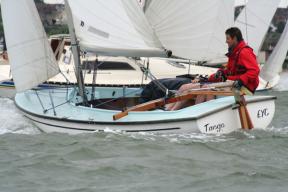 EYC has a full racing programme for these historic and beautiful boats which have been sailing the Lower Thames since before WWII.
Designed by Morgan Giles the EOD is 18 ft (5.53m) oal and 6ft (1.87) in beam. and they carry 210 sq ft of sail. The first nine boats were registered in 1920 - all with musical names.

Web: http://eodclass.org.uk/
---
International 14 s. Classic 14s
Information
Searching for a thousand missing
dinghies !
Dick Johnson says of classic International 14s, "Considering that there were well over 1100 boats built to the rules that we call Classic, it is surprising that fewer than 30 are today recorded in the Class records. I am trying to increase our knowledge about the missing 1070 and more boats and would be grateful for any information on any International 14 that might be brought to my attention. If you own or know of any International 14 numbered from about 1146 downwards please let me know and put me in touch with its owners. If nothing else we would like to know that these boats exist, at the best, we would hope that they might come to sail with us at classic events."

Photo: Dick Johnson's Kirby V11, winner of the Prince of Wales Cup
Read more about the history of the International 14 by clicking here

Contact Details:
International 14 Website: www.gbri.org
---
Lymington L Class

Lymington L Class
This is one of those boats about which we should like to know a lot more. They are to a design by Laurent Giles and we should be interested to know of current owners so that we might include some details of the boat here together with an illustration. If you would care to get in touch please do so at: tradboat2017@gmail.com

Please note all emails are respected and your address is never forwarded by us to a third party

The vintage wing of the National Twelve Owners Association is for any clinker built National 12. extending from N1 (1936) to N2512 and about a hundred boats thereafter. The first boat to be built without ribs (but still a clinker boat) was number 1153 - a Proctor Mark 11. These boats are not competitive with modern 12s of course but are much enjoyed and a Vintage Series of about seven meetings is organised each year. The secretary is always interested to hear of old boats.

Web: https://www.national12.org/history.shtml
See: also: www.cvrda.org

Westwind" photographed in 1990 is an Uffa King design N456,
twice winner of the Burton Cup. Photo: Charles Smith

Two Uffa Kings seen outside the clubhouse at Frensham Pond SC.
---
Olympic Monotype (Olympia-Jolle)

This single hander was designed in 1932 for the 1936 Olympic Games in Germany. The protoptype O-Jolle "Skagerrak" was introduced in 1933. The boat was popular in Germany at that time but few were to be seen on this side of the Channel. At the Games, the Gold Medal was taken by Kagchelland of Netherlands, with Germany second and Peter Scott third.

O-Jolles are still widely sailed in Germany, Switzerland and the Netherlands.

About the boats:

LOA: 5m Beam: 1.66m Sail area: 10 sq m Sail Mark: O
The boat was cat rigged, carvel built, with a small deck or half deck forward. Its low freeboard was in the traditions of "sharpie" design.

We would be most grateful for information about any currently sailing in the UK, and for photographs of the boat to complement our Olympic Source page which is now in development. We understand that there is an example in the NMMC in Falmouth. Perhaps you would reply to tradboat2017@gmail.com thank you, Charles Smith. Editor.

Please note all emails are respected and your address is never forwarded by us to a third party.

---

Pegasus 14 Ft

The Pegasus 14 was designed by Uffa Fox in 1958 co-operating with Bell Woodworking to produce the first kit built round bilge dinghy. Only 250 were produced. The design was basically a decked version of his International 14 and carried both spinnaker and trapeze.
The Pegasus Class Association
Web: www.cvrda.org/pegasus/pegmain.htm


---

A smallish clinker dinghy from 1928, designed by Cmdr C E Hammond. We would like to hear more about these craft at TradBoat, so if you have one perhaps you would be kind enough to email us at tradboat2017@gmail.com

About the boats: LOA 11'8 (3.33m) Beam: 4'6 (1.38m)
Sail area: 80 sq ft on a sliding gunter rig. Clinker built.

Please note all emails are respected and your address is never forwarded by us to a third party.

We would like to hear from any owner of a boat from the Uffa Fox Flying series other than the familiar Flying Fifteen. We are particularly interested in Flying 10s or Flying 20s. Please email us at tradboat2017@gmail.com

Please note all emails are respected and your address is never forwarded by us to a third party.

The Rater Association (Thames 'A' Raters)




The Thames 'A' Rater is an historic class of river racing yachts, dating from Victorian times. At 27' LOA (8.30 M approx) with a 46 ft (14.15m approx) mast and 350 sq ft sail area the Raters make a spectacular sight sailing from their base at Thames Sailing Club on the Surbiton reach of the Thames. Although the hulls are traditional, the rigs continue to be developed, and the rater is unbeatable in river sailing. The fleet is a mixture of original wooden boats, and modern grp hulls taken from a mould of 'Ulva' (1898). The wooden hulled boats, which are highly competitive, date from 1898 to 1922.

Web: https://raterassociation.co.uk/

---


National Redwing

Designed by Uffa Fox, the National Redwing is a fourteen foot clinker dinghy of which the first eight were built in 1938 for the Looe Sailing Club. (Don't confuse this boat with the Bembridge Redwings which are keel boats. Ed.) Post war building spread the boat along the South West coast. Redwings have fore and side decks and tend to tumblehome at the transom.

About the boat: LOA 14'0 (4.3 m) Beam 5'0 (1.5 m) Weight (displacement) 275 lb (124 kg) Sail area 145 sq ft (13 sq m).
The boat is Bermuda rigged and all boats have red sails. Sail mark R

---

.. Royal Corinthian One Design

Designed by Harry Smith, the first boat was introduced to The Royal Corinthian Yacht Club in Burnham in 1934, and the fleet expanded in 1935 to fourteen boats. These are one design keelboats which like most established classes have adopted modern materials for their sails and masts since their inception. Every boat has a name beginning with the letters Cor...

About the boat
LOA 22'8 (6.97m) Beam 6'0 (1.85m) Draught 6'0 (1.85m)
Sail Area 226 sq ft

Web: https://royalcorinthian.co.uk

---
a Sea View One-Design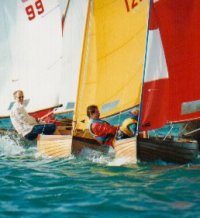 The SVOD class was formed in 1931 and races at Seaview, Isle of Wight, from July to September. Although the boat is a classic design, the class is still expanding from new building and we now have close to 200 boats based in the village. The class enjoys competitive racing, which is quite a spectacle since each boat has a different multi=coloured sails

Contact: https://www.svyc.org.uk/club-racing
Aboat the boat: LOA 12' (3.69m) Beam 4'6 (1.38m) Construction: clinker
---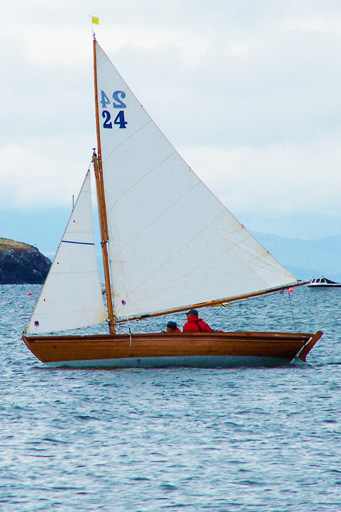 Picture from South Caernarvonshire web site with thanks.

Sea Birds date back to 1898 and owe their design origins to a collaboration between Herbert Baggs and W Scott Hayward. Some seventy of these carvel planked boats are still in commission, sailing at clubs in the North West (UK) principally at Wallasey Yacht Club, South Caernarfon Yacht Club and Trearddurr Bay Sailing Club. Six additional boats have been built during the last ten years by Classic Sail Boats of Caernarfon. Interestingly all the boats are named after seabirds

About the boat
LOA 20' (6.15m) Beam 6'0 (1.85m) Draught 1'3 (.38m)
Sail Area 182 sq ft

Website: http://www.scyc.co.uk/
---

A classic keelboat by Arthur Westmacott. The first seven boats were built in 1923 and in 1924 the Falmouth Sunbeams were established. The two classes amalgamated in 1958, although they sail as two separate divisions.

About the boats: LOA 26'5 (8.0m) LWL 17'6 (5.30m)
Sail area 300 sq ft (28 sq m) Sail Mark: V

---
.
The Tideway Dinghy

Always the doyen of cruising dinghies, about 500 of the original clinker Tideway Twelves were built between the early fifties and 1978 or '79 by L H Walker & Co at Leigh-on-Sea. Some are known to have gone of course, but there are around 150 of the originals in membership. The Class Association also includes owners of grp Tideways built by Tepco, and both grp and wooden Tideway Twelves built now by The Boatyard (March 1999).

Membership: Three meetings are held each year - one of them a race meeting run on very gentle lines.. There are a good bunch of Tideways on the East Coast where they were built, but boats are found scattered all over the country, often gathering at Coniston Water.
Web: https://www.tidewaydinghy.org/
About the boats: LOA: 12'0 (2.46m) Beam: 5'0 (1.54m)
Rig: a gunter or bermudan rig of 81 sq ft - about 7.43 sq m. A 14 foot version is available known as the T14. The Tideway 12 is clinker built in wood or in simulated clinker in grp. Look out for the tan sails and the TW sailmark. The Association publishes a fascinating booklet detailing the history of the Tideway and Walkers.
---
Twinkle Twelve (& Twinkle 10)



The Twinkle Twelve and the Twinkle Ten were built by Wright & Sons (Ipswich) Ltd in the 50s, 60s and 70s from Mahogany on oak frames. Wrights also built a 14 known as the Family 14. The Twelves are 12ft (3.66m) overall and 4'8 (1.42) in beam. They carry about 80sq ft (7.4sq m) of sail - originally on gunter rigs which have been largely or wholly replaced by Bermudan. The home of the Twinkle Twelve is the Burnham Overy Staithe Sailing Club where there are 25 - 30 Twinkle 12s and a small number of 10s and 14s. These charming boats are widespread but the only fleet is at Burnham Overy
---

Wivenhoe One Design

The committee of the Wivenhoe Sailing Club formally adopted the Wivenhoe One design (WOD) on March 18th 1935. (like all good sailors they met in the local pub - in this case the Black Buoy !) Designed by Dr Walter Radcliffe especially for the prevailing conditions on the River, eighteen boats were built before the war. Of these 11 were for the Wivenhoe fleet, 5 for Manningtree and 2 at Brightlingsea. The nineteenth was built sometime after 1945 and first appeared at Wivenhoe in the early 60's having been in or around the Norfolk Broads.


Sixteen boats are still local, only one is known to have been destroyed. Budding spotters should count 12 planks a side then note the tumblehome transom. Very few boats have both these features and if you see one it may well be a WOD. With the exception of the war years, an average of fifteen races for the class took place every year. Although not all boats are currently afloat and racing, the class is active and several boats have undergone major refits. One or two are currently being restored.


About the boat: LOA: 15ft (4.62m) Beam: 5'2 (1.59m)
Sail area: 129 sq ft + spinnaker.
Wooden clinker hull (12 planks a side). Bronze centreplate. PY1030.
The boat shown in the photograph is "Alcyone" - the first WOD and still sailing.


Web site: http://www.wivenhoeone.co.uk/
Currently there are about 36 boats in commission in the UK, based in Portsmouth. Victorys take part in Cowes Week as a Class. Suggested by local yachtsmen and backed by the Navy (hence the fleet in Gibraltar) the class was introduced in 1934 (based on a much older class from1904/5).

See them at their moorings on the Gosport side of Portsmouth Harbour, and at Haslar Marina.

All the details at: www.victoryclass.org.uk
Sail Mark: Z
X Class One Design Keelboats
The X Class was introduced in 1909, to a design by Arthur Westmacott. 198 boats have been built all of which all are accounted for. Some 150 are sailing in one of five Divisions, based on Hamble, Itchenor, Lymington, Poole and Yarmouth IOW. Their championships take place during Cowes Week - 80 to 90 boats in the fleet.

About the boats: LOA approx 20'8 (6.30m) LWL 17'6 (5.30m)
Sail area 2120sq ft (19 sqm) Sail mark: X

Web: http://xonedesign.org.uk/newsletters/



Yarmouth One Design Class Keelboats


Eleven 21' Yarmouth OD open keelboats were built before the first world war (1912 - 1913) by Theo Smith at Yarmouth IOW to a design by Henry Longmore. Two further boats were built by Woodnutts in 1929 bringing the total up to 13. Of these, two are know to have sunk, one is in restoration and two are missing, the remainder are once again racing as a Class. The class was established at the Solent Yacht Club in 1911 and re-established in 1995. What happened to the missing boats ? we would very much like to know.

About the boats: LOA 20'10½ (6.41m) Beam: 6'0 (1.85m) Draught: 2'7 (0.79m)
Sail Area: 200 sq ft. Sail mark: Y

Web: http://yod.org.uk/


---

Description: YODs are the oldest One Design class still sailing in the UK. Eight boats were built in 1898. Two more were built in 1938, another in 1945, a further three in 1947, and one in 1951. The latest addition was launched in 1998 for the centenary of the class, and named by Sir Edward Heath. The class sails three or more bay races each weekend from April until October. The boats still sail around Flamborough Head in coastal races, and take part in the Royal Yorkshire Yacht Club's Regatta each year.

About the boats: LOA: 25'2 (7.74m) Beam: 7'0 (2.15m) Draught: 3'6 (1.08m)
The original design was for Field & Co of Southampton, as One Rater. The early boats were gunter rigged, but are now sailed with a Bermudan rig.

---

TradBoat © Charles Smith Publications
Last updated: 08 Jan 2023

---